Heute Abend starten die Open Source Circular Economy days (OSCE) in Berlin. Die OSCEdays Berlin sind ein HACKATHON (Hack & Marathon), was so viel bedeutet wie eine Veranstaltung aus interdisziplinär zusammen gesetzen Teams, die aus den unterschiedlichen Perspektiven in verschiedensten Challenges (=Aufgaben/Problemen/Ideen) zu einem spezifischen Thema (hier die Kreislaufwirtschaft) arbeiten. Auch können eigene Ideen eingebracht werden. Neben den vielen Challenges gibt es Vorträge, Podiumsdiskussionen, Führungen und auch eine Ausstellung. Hier gehts zum Programm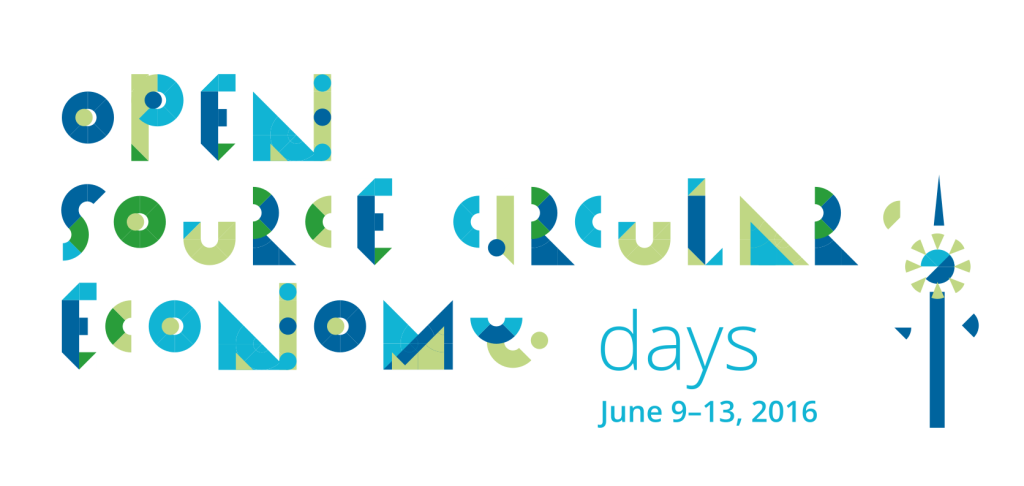 Open Source Circular Economy Days (deutsch etwa: Open-Source-Kreislaufwirtschafts-Tage) ist ein globales Event und eine globale Community zur Entwicklung offener Ressourcen und Möglichkeiten für die Umstellung auf eine globale, nachhaltige Kreislaufwirtschaft. In Berlin findet eines von über 70+ Events statt, die vom 9 – 13 Juni 2016 über den ganzen Globus verteilt miteinander vernetzt arbeiten werden. 250+ Menschen mit verschiedensten Hintergründen (Unternehmer, Aktivisten, Wissenschaftler, Maker usw.) werden im Rahmen verschiedenster Challenges produktiv offene Lösungen für eine Kreislaufwirtschaft entwickeln und ausprobieren.
Man muss keine eigene Challenge mitbringen, sondern kann einfach bei anderen Challenges mitmachen, oder auch einfach nur Vorträge und Diskussionen anhören. Einige Challenges haben begrenzte Teilnehmerzahl. Ob ja oder nein steht in der Beschreibung zu den Challenges, zu finden über das Programm. Die Tickets für die OSCEdays Berlin sind generell kostenfrei und können hier bestellt werden. Die Veranstaltung findet im neuen Co-Working Areal CRCLR Lab in Berlin Neukölln statt.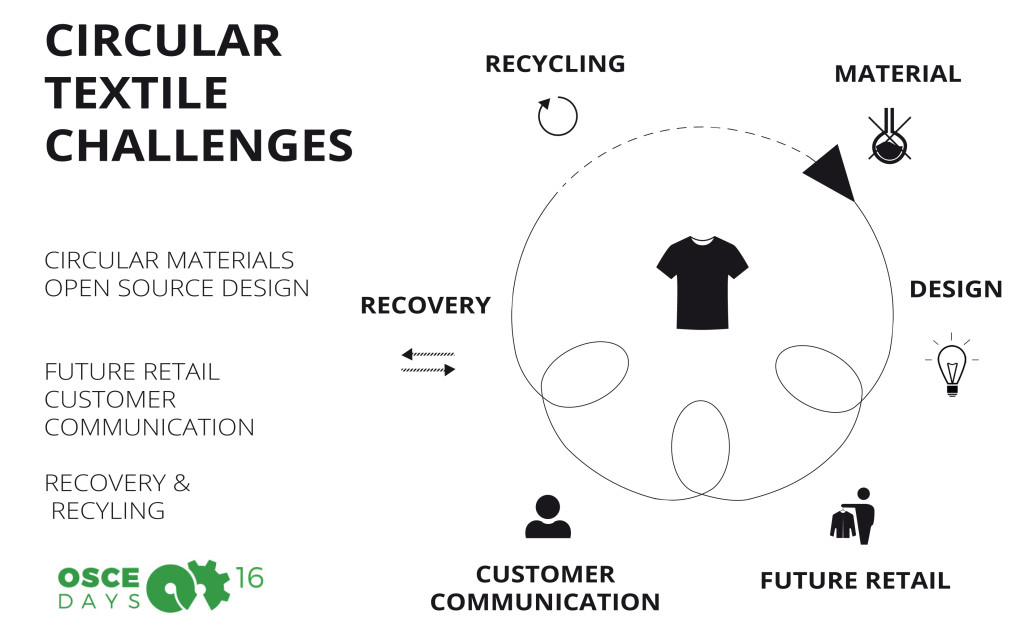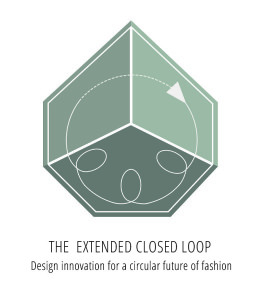 Ganz besonders spannend ist dabei die Circular Textile Challenge, die sich ausschließlich mit dem textilen Kreislauf befasst. Initiiert und federführend organisiert wird die Challenge von Designerin Ina Budde, die z.B. mit ihrer Arbeit Design for Circularity Unternehmen und Labels zur textilen Kreislaufwirtschaft berät und in der Umsetzung begleitet. Auch Studierende und Alumni des in Deutschland einzigartigen Master-Studiengangs Sustainability in Fashion der ESMOD Berlin sind bei der Veranstaltung dabei und nicht zu vergessen, es sind mitgroßartige PartnerInnen wie Filippa K, The Post-Couture Collective und Circle Economy mit an Bord und aktive bei den Challenges dabei!

Circular Materials and Open Source Design
1. The Post-Couture Collective / Fri 10:
How can we support design and material innovations to further develop a circular textile system?
MD1. Which interactive co-design and knowledge sharing formats enable to collaboratively further develop and spread circular design & material innovations in 2020?
MD2. Which circular design strategies and material innovations will become key elements of the circular textile system of 2020?
Future Retail Models and Customer Communication
2. Filippa K / Fri 10 – Sat 11:
How can brands inspire circular consumption?
F1. What will be the new physical store experiences that encourage circular behavior?
F2. How can second hand be developed further to compete with traditional retail?
F3. What does a wardrobe look like in 2020 when optimized to circular behavior?
Recovery & Recycling
3. Circle Economy / Sat 11:
How can we effectively recover pre and post consumer textiles for recycling and reuse?
C1. What will be the most beneficial and effortless logistic systems that will optimize the recovery of textiles in 2020?
C2. Which customer convenient textile collecting systems will optimize widespread recovery by 2020, while also providing benefits to business?
Anmelden könnt Ihr Euch kostenlos hier.
Los geht´s heute Abend mit einem Welcome-Event und einleitenden Worten der Neuköllner Bezirksbürgermeisterin Dr. Franziska Giffey, der Vorstellung der verschiedenen Challenges und zum Ausklang mit Netzwerken und Party bei Sustainability Drinks veranstaltet von GreenBuzz Berlin!
Die gesamte PDF INVITATION mit Programm.
SLOW FASHION LAB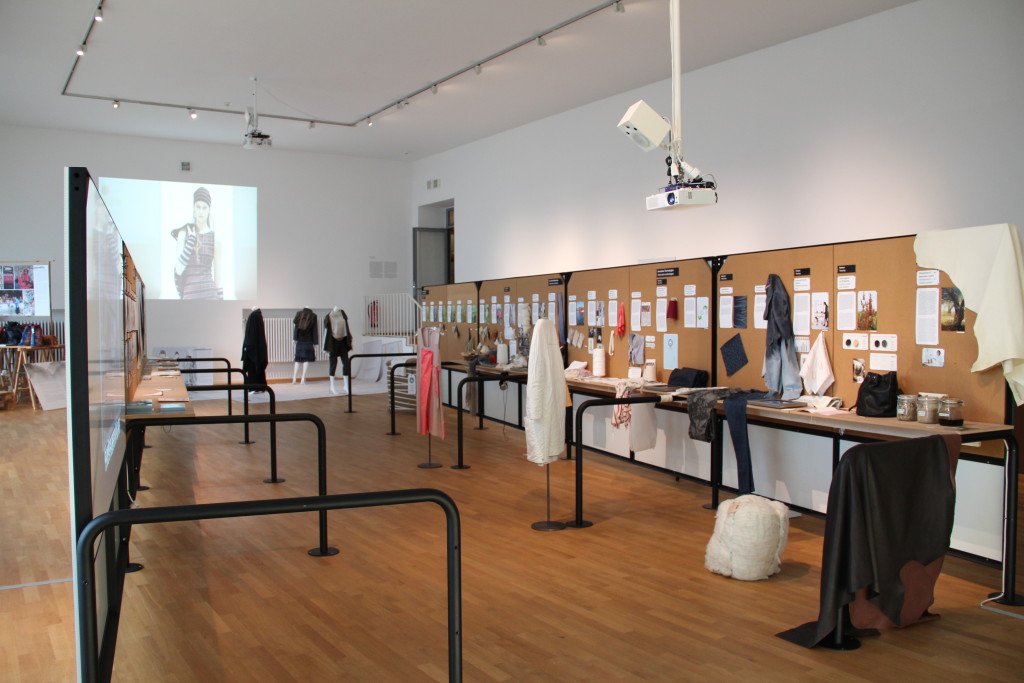 Neben der Challenge gibt es eine begleitende Ausstellung, die innovative kreislauffähige Mode und Textilien zeigt. Mit dabei sind Auszüge aus dem SLOW FASHION LAB, das im Rahmen der Fast Fashion Ausstellung im MKG Hamburg und dem Hygiene-Museum Dresden sowie dem Slow Fashion Room zu sehen war. Es gibt viele verschiedene nachhaltige Materialien und Informationen über Gerben z.B. mit Rhababerleder von deepmello, Recycling & Upcycling, Bleichen, Re-Use und die zahlreichen Textilsiegel. Mehr dazu gibt es bald auf dem Blog.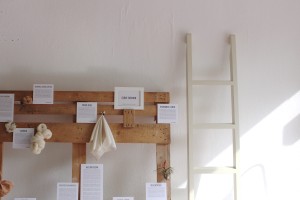 Einladung gerne teilen – Spread the word!
---